BIO Passata Rustica
€2.17
Il pomodoro biologico è il simbolo della nostra storia e della nostra cultura.
Ha la caratteristica di essere coltivato al sud dell'Italia, tra Campania e Puglia e di essere trasformato dopo poche ore dalla raccolta, in modo da lasciare inalterato il suo profumo e la sua freschezza.
La nostra filiera biologica viene seguita dalla semina alla raccolta, terminando in una attenta trasformazione.
| | |
| --- | --- |
| Ingredienti | Pomodori biologici |
| Provenienza | Italia, regioni meridionali, filiera certificata biologica |
| Peso | 420 gr. netto |
Related products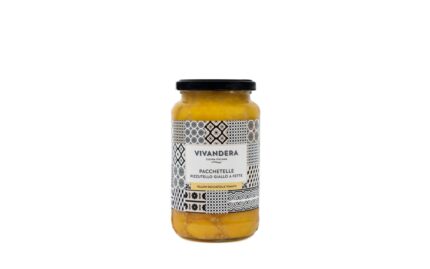 Pizzutello Giallo, commonly called "Piennolo Giallo", is grown in the Vesuvius National Park, on the slopes of the crater, benefiting from the volcanic soil and all the minerals it contains. The name "Piennolo" derives from the traditional conservation technique, where precisely the "Piennoli" (whole bunches) of tomatoes, harvested between July and August are stored suspended, in dry and ventilated places, so as to give the product its unmistakable sweetness and the typical acidulous aftertaste. The tomatoes are crushed directly in pots, as per tradition, and preserved in their own juice.