Peperoni Arrostiti in Latta
€6.90
I nostri peperoni vengono raccolti e trasformati direttamente dal fresco.
Una volta selezionati, nelle tre tipologie tipiche, rossa, verde e gialla, vengono grigliati ed inscatolati interi, senza essere tagliati.
Per questo, all'apertura, sprigionano un'esplosione di colori, profumi e sapori tipicamente estivi.
| | |
| --- | --- |
| Ingredienti | Peperoni, acqua, zucchero, sale, correttore di acidità acido citrico |
| Provenienza | Italia |
| Peso | 400 gr. netto 350 gr. sgocciolato |
Related products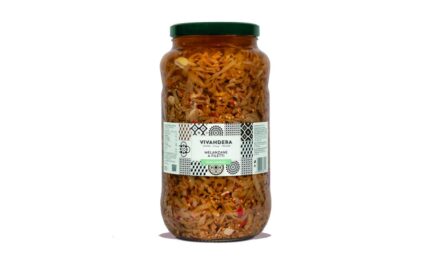 "For the aubergine fillets in oil we select the firmest fruits of the "Violettalunga" variety, the most suitable one thanks to its characteristic elongated shape. The products are cut into strips and processed with ancient techniques which, using table salt, eliminate excess liquids. Finally they are seasoned with wine vinegar, oregano, garlic, salt and chilli pepper and placed in glass jars with oil."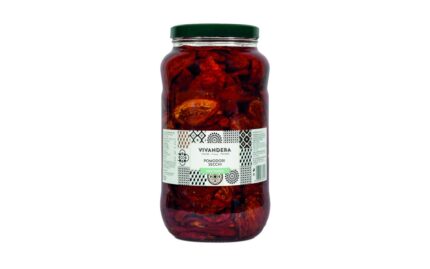 "The hardest and most consistent tomatoes are collected and selected, cut by hand and, after a few hours, spread out in the sun for slow and natural drying. Subsequently, once drying is complete, expert hands select only the best pieces and then move on to the cleaning phase. Once the tomatoes have been cleaned and "stretched", seasoned with wine vinegar, oregano, garlic, salt and chilli pepper, they are placed by hand in glass jars together with the extra virgin olive oil."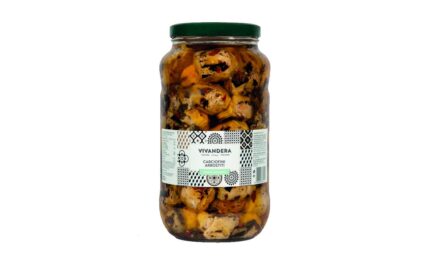 "Our artichokes, once collected and carefully selected, so as to use only the smallest ones, are grilled on lava stones and seasoned, according to tradition, with wine vinegar, salt, parsley and chilli pepper. Subsequently they are placed, strictly by hand, in glass containers then filled with oil. Full-bodiedness and consistency of the final product are the characteristics that everyone recognizes in us."